Basic Pistol Training & Constitutional Carry Class
Pricing:
$145. Includes a free lunch.
CONSTITUTIONAL CARRY SALE NOW ONLY $105
*Summer Special BONUS! Optional Free LTC Class with Purchase of Basic Pistol Class. See Below. (Both classes must be taken on same day.)
Description: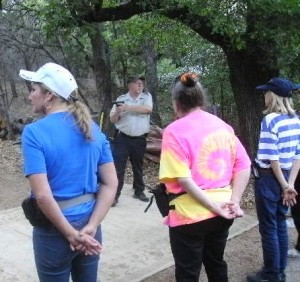 For new shooters and the Less Than Great shooters! This course includes expert training in, gun safety, as well as hands-on basic and advance marksmanship, concealment training, how to load, unload, make safe, store your gun safely and legally, proper gun cleaning, and learn how to choose the right gun for your needs. Guns are like shoes. They have to fit properly!
Expert gun training and range coaching plus range qualification all in one day.
If you are a new shooter, or you just want to become more proficient with your firearm, this is the class for you. We'll teach you to shoot straight and be safe with the handgun. Rental guns and ammo available. You get complete safe gun training, one on one marksmanship coaching, and then shoot your qualification round. Bring your own gun or use our rental pistols. Ammunition available at competitive prices.
Requirements:
You will need: Your handgun (unloaded) or use ours ($15 plus ammo), one magazine (also unloaded) and at least 100 rounds of ammunition

Paper and pen to take notes

Long pants or jeans,

Shoes that cover the entire foot,

Shirt with a collar (buttoned up to prevent hot empty casings from going down your shirt during the shooting proficiency test),

Safety (wrap around) shooting glasses

Ball cap that covers top of head,

Electronic Muff type hearing protection, electronic earmuffs are now rented at $5 per pair in shooting classes. they are still for sale at $38 per pair,

We shoot rain or shine so, if bad weather threatens, bring a rain jacket.

*ADDITIONAL REQUIREMENTS FOR FREE LTC CLASS:

ADDITIONAL 50 ROUNDS OF AMMO

THREE HOURS ADDITIONAL CLASSROOM TIME REQUIRED